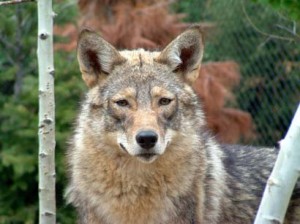 Welcome to my web site: Eastern Coyote/Coywolf Research (ECR).  This website was originally  constructed in July 2007 and was re-built late-October 2012 on a WordPress template. I have created this new site to replace my old web page from Boston College in order to keep you informed about my eastern coyote (or coywolf) research.  In addition, I have added an on-line store to this web page. Note: This website looks good with all browsers except Windows Explorer. I would recommend you use anything else (i.e., Firefox, Google Chrome) besides Explorer which is prone to errors.
If you are confused as to why "coywolf" is in the title with eastern coyote, please see this peer reviewed publication and this one, or go to my publications page to learn how the eastern coyote is really a hybrid between western coyotes and eastern/red wolves. I do not believe it is accurate to call them coyotes when their DNA (throughout northeastern North America) is composed of both eastern wolf and western coyote genes.
Please consider donating to ECR which will help support my expenses (if you feel uncomfortable donating online, then please email me and I can provide you with a postal address):
Mission of ECR
The mission of Eastern Coyote/Coywolf Research is to promote the appreciation and acceptance and provide better protection of this creature throughout its range in Northeastern North America through sound science and public education.
Contact information
Please note that I am very busy between working and conducting research related to this webpage.  Thus, I simply do not have the capacity to help students with reports (although this is a very important topic) or to answer your every question about coyotes/coywolves. The reason why I have written Suburban Howls and made this web page available is for you to obtain accurate information on my favorite animal to use accordingly.  E-mail for contacting Jon: easterncoyoteresearch@yahoo.com
Biographical sketch
Jonathan Way has a B.S. (UMass Amherst), M.S. (UConn Storrs), and doctorate (Boston College) related to the study of eastern coyotes/coywolves. He is the author of 2 books: Suburban Howls, an account of his experiences studying eastern coyotes in Massachusetts, and My Yellowstone Experience, which details – in full color – the spectacular wildlife, scenery, and hydrothermal features that can be found in the world's first national park. Jon is a Research Scientist at Clark University where he is continuing his goal of long-term ecological and behavioral research on coywolves. He runs an organization Eastern Coyote/Coywolf Research, works seasonally for Cape Cod National Seashore, is a part time post-doctoral researcher with the Yellowstone Ecological Research Center, frequently travels to the Yellowstone area, and is seeking a publisher for a 3rd book project of his: "Coywolf".