Quick link: Please visit my Research Obstruction Testimonial Page within this website to expose how state wildlife agencies are able to obstruct and discriminate against scientists for exposing flaws in wildlife management plans, such as current carnivore hunting laws.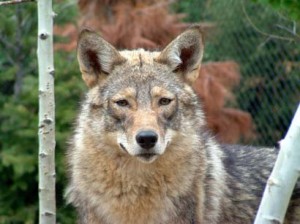 Welcome to Eastern Coyote/Coywolf Research (ECR).  If you are confused as to why "coywolf" is in the title with eastern coyote, please see this peer reviewed publication and this one, or go to my publications page to learn how the eastern coyote is really a hybrid between western coyotes and wolves. I do not believe it is accurate to call them coyotes when their DNA (throughout northeastern North America) is composed of western coyote, eastern wolf, gray wolf, and dog genes.
The following is a trailer to a film that will hopefully be completed in the near future on my research:
Alert: May 4, 2017. A special thanks to Louise Kane, Elizabeth G Brooke, John Maguranis, and Predator Defense: https://www.facebook.com/PredDefense/ for creating this important petition to ban carnivore hunting at Cape Cod National Seashore. It is due time that the park service treats this area like the national park that it is and for more people in the East to have a chance to experience a national park setting without having to travel out west. It is hoped that 1000s of signatures are gathered and that you might not only sign on but also forward this petition to your networks and help us recruit many other signers to force Seashore staff to recognize this important area and give it the proper protections it deserves. This is a great situation where someone can feel empowered in making a difference by singing on to a document that has a chance of achieving its intended goals.
Please consider donating to ECR which will help support my expenses. If you feel uncomfortable donating online, then please email me (Jon) at easterncoyoteresearch@yahoo.com and I can provide you with a postal address OR you can send money for free (no fees on either end) in PayPal by going to Tools then Send Money and send it from bank acct to bank acct using my email address (easterncoyoteresearch@yahoo.com). This will also save me from PayPal fees which is about 4% of a transaction. Thank you in advance for your kindness.
Mission of ECR
The mission of Eastern Coyote/Coywolf Research is to promote the appreciation and acceptance and provide better protection of this creature throughout its range in Northeastern North America through sound science and public education.
Contact information
Please note that I am very busy between working and conducting research related to this webpage.  Thus, I simply do not have the capacity to help students with reports (although this is a very important topic) or to answer your every question about coyotes/coywolves. The reason why I have written Suburban Howls and made this web page available is for you to obtain accurate information on my favorite animal to use accordingly.  E-mail for contacting Jon: easterncoyoteresearch@yahoo.com
Biographical sketch
Jonathan (Jon) Way has a B.S. (UMass Amherst), M.S. (UConn Storrs), and doctorate (Boston College) related to the study of eastern coyotes/coywolves. He is the author of 2 books: Suburban Howls, an account of his experiences studying eastern coyotes in Massachusetts, and My Yellowstone Experience, which details – in full color – the spectacular wildlife, scenery, and hydrothermal features that can be found in the world's first national park. Jon founded and runs his organization, Eastern Coyote/Coywolf Research, where he is continuing his goal of long-term ecological and behavioral research on coywolves. He also supplements his research with regular trips to Yellowstone National Park. He is seeking a publisher for a 3rd book project of his: "Coywolf".