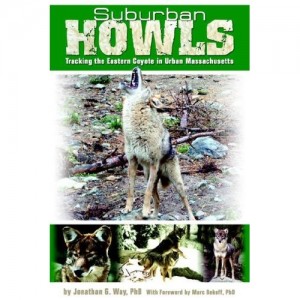 Testimonial added July 3, 2015:
     Hi Dr. Way:  I just want to let you know that I've read both of your books and I consider myself very fortunate.  I read Yellowstone first.  Read it three times, then cut out the park  map at the back.  We framed the map and it's hanging in our cottage now.  My wife has agreed that we should visit Yellowstone.  We've decided on 2020 at the latest.  What a thoroughly enjoyable and helpful read Yellowstone is.  Also, Suburban Howls changed me forever. You made me a better person. Thank you for that.  I've always loved nature, but admittedly did not understand or appreciate coywolves.  I have a better understanding and certainly much more appreciation for them now.  Thanks once again for sending the books to me!
2 Versions – Paperback or ebook:
1. Paperback book is 340 pages long and is $23.99 + $4 Shipping/Handling. Sale: all books are 10% off, thus $21.59 plus $4 shipping ($4 total on shipping, no matter how many books are ordered). This online store is the only place (except in person from me) where you can purchase my book Suburban Howls in a color version (2 color plates totaling 40 pictures) as well as a signed copy.

Purchase the color and signed version of Suburban Howls by clicking here:
Note: For buyers outside of the United States, please email me at easterncoyoteresearch@yahoo.com for shipping rates before purchasing anything on this website. If you feel uncomfortable purchasing online (including U.S.  buyers), then please email me and I can provide you with a postal address. Thank you.
2. Suburban Howls e-book. The book is edited ((c) 2014) from its original version and available on e-readers in 100% color (with well over 100 pictures). Note: This 2014 edited version is also be available as a (Print on Demand) black and white paper back book thru Amazon, Barnes and Nobles, and other online outlets.
A. To receive the book as a color PDF and the book in .epub format please donate $10 or more to me and state in the optional message that you'd like these formats sent to you (donate tab can be found here on my homepage). Here is my email if you donated and did not enter a message but would like to: easterncoyoteresearch@yahoo.com.
B. To order the Amazon Kindle version of Suburban Howls ($9.99) click here. Amazon Canada can be found here (same $9.99 price).
C. Added March 2015: To order as a NOOK book through Barnes and Noble, click here.
D. To order an iBook through Apple in any format (iPhone, iPad) just go to the iBooks app on your tablet device and keyword search "Suburban Howls". I can not provide a link here because this is not an Apple device.
Contents:
One Sentence Summary
Book Description
Biography paragraph
Praise for Suburban Howls
For a book review in a professional journal (Canadian Field-Naturalist) click here
For a book review from the website: shvoong.com click here
Sample Pictures from the Book
……………………………………………………………………………………………………………………..
One Sentence Summary
This book is about the experiences and findings of a biologist studying eastern coyote ecology and behavior in urbanized Massachusetts.
Book Description
This book is about the experiences and findings of wildlife biologist Jonathan Way, studying coyote ecology and behavior in urbanized eastern Massachusetts.  Jon is acting out a childhood dream to study wild animals. However, instead of going to far off places such as Africa or the remote stretches of the Rocky Mountains, he began his professional career in high school and college by tracking eastern coyotes in his own hometown on Cape Cod.  We hear so much about this unique animal and the conflicts it can create, but relatively little is known about the coyotes in the east.  The lack of other studies taking place on coyotes in urbanized areas in eastern North America provided Way with the perfect graduate project, and an unending source of information and entertainment.The coyote is a remarkable animal, being one of the only carnivores to actually increase its range and distribution in the past one hundred years.  Coyotes have taken over as top predator in all environments in New England, from wilderness parks to city greenbelts.  Along its migration to the northeast it has become larger, likely the product of hybridization between western coyotes and eastern wolves, and with that, we see more speculation and theories about what the animal is, how it got here, and why it is here.This book celebrates having these animals living among us and makes a passionate plea for their protection.  After all, with the eradication of most of their competition in New England, mainly wolves, a niche for a relatively large carnivore was left vacant for over one hundred years.  Coyotes naturally colonized these areas on their own four feet and deserve the respect that any native carnivore should be granted.  With their tremendous range expansion in a relatively short amount of time, coyotes proved that it is unnatural not to have a predator in most ecosystems.In Suburban Howls, Way takes us with him as he navigates dirt roads and wooded paths, travels through cemeteries, around cranberry bogs, in and out of residential areas, down power lines, and even into the city to see where coyotes travel and rest and how they survive, raise pups, prosper as a family, and ultimately die, many before their time.  A fascinating account details the author raising a wild-born litter of coyotes, capturing his first coyote in a box trap, tracking a coyote into downtown Boston, documenting an increase in local coyote numbers following the death of resident territorial coyotes, and seeing first-hand how coyotes mourn when separated from their family. The reader will discover that it is perfectly appropriate to have wildlife in developed areas and that people, not wild animals, are the ones that typically have a hard time adjusting to their new neighbors.  With a territorial species like a coyote, any land that does not have other coyotes might as well have a "For Rent" sign out.
This book is written for the layman in a humorous, easy-reading style.  It highlights the dedication and emotional involvement of working with this needlessly controversial animal, and will offer simple precautions to enable Homo sapiens to coexist with these wild canines that Native Americans called the Trickster.  The data Way has gathered over the past ten years will enlighten and educate you with an insight into the behavior and habits of these remarkable wild dogs.
Biography paragraph
Jonathan (Jon) G. Way began his research on coyotes while at Barnstable High School on Cape Cod (1993). He received his B.S. from the University of Massachusetts at Amherst (1997), M.S. from the University of Connecticut at Storrs (2000), and Ph.D. from Boston College (2005), all related to his coyote research.  Four studies have formed the backbone of the research chronicled in this book: free ranging studies, one on Cape Cod and one in Boston; a captive coyote component; and an educational piece assessing student learning of a coyote-based curriculum unit that he created. Way's main interest encapsulates the study of predators inhabiting urbanized ecosystems. For more information on these coyote projects, visit Jon Way's homepage at http://www.easterncoyoteresearch.com (this site).
Praise for Suburban Howls
"Jon zealously offers a refreshing paradigm for wildlife management in which …  scientific data about territorial behavior in coyotes and their patterns of dispersal strongly argue against the random killing of coyotes, and … to recognize the value of these animals in the heart of a healthy ecological environment." Marc Bekoff, Ph.D., University of Colorado, Boulder
"This detailed, personal rendition of a young, eager, and dedicated wildlife biologist's study of urban coyotes will delight most lay readers interested in wildlife and conservation.  Although many scientists will look askance at the author's conscious emotional attachment to his subjects, the general public will end up sympathizing with his open advocacy for the creatures." L. David Mech, Ph.D., Adjunct Professor, University of Minnesota
"This book is the very essence of the Jon we know – passionate, unfiltered, and unfettered by academic custom.  The reader will be guided into the world of a young field biologist struggling to understand the behavioral ecology of coyotes and the social ecology of the people they live with. No one will be unmoved by his triumphs or heartbreaks." Eric Strauss, Ph.D., Director of Environmental Studies Program at Boston College
"If you hear the name Eastern Coyote in New England, you have to automatically associate it with Jon Way.  People dedicated to the ecology and conservation of certain species are aplenty out there, but it is difficult to imagine any more dedicated person to a single species than Jon.  He can even talk coyote language, so if you want to better understand this species you will be in for a treat by reading this book." Morty Ortega, Ph.D., Associate Professor, Natural Resources Management & Engineering, University of Connecticut
Book Review:
McBride, B. 2009. Book Review – Suburban Howls: Tracking the Eastern Coyote in Massachusetts. Canadian Field Naturalist 123: 83.