Note: If you feel uncomfortable purchasing online, or are non-U.S. buyer, then please email me (easterncoyoteresearch@yahoo.com) and I will provide you with a postal address to mail a check to. This will also save me from incurred PayPal charges which is about 4% of a transaction. Note to non-U.S. buyers: shipping rates will vary depending on country and the deal for free shipping if you order both books is for shipping in the United States only. But I will still try and get non-U.S. buyers a good deal.
1. Books:
1.A) Best deal! Purchase signed color versions of both of my books, Suburban Howls and My Yellowstone Experience, for a combined price of $39.99 including free shipping (U.S. residents only)! This value is cheaper than online sources (like Amazon) even though both books are higher quality with Suburban Howls having 40 full color pictures in 2 different glossy sections. My Yellowstone Experience is full color throughout and printed on high quality, shiny glossy paper. See below for more detailed book descriptions.  Purchase both books for $39.99 total (including shipping) here:
1.B) Purchase Suburban Howls by clicking here: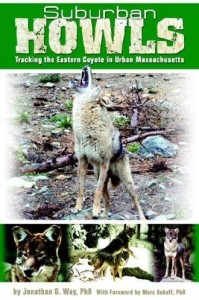 This on-line store is the only place that you can purchase a color version (2 sections of color inserts) of the book as well as get a copy signed by the author directly, unless you go to one of my book signings and/or talks.  These 2 things (color and signed copy) automatically come with any book purchased through this store. Book is 340 pages long and is $23.99 + $4 Shipping/Handling. Sale: all books are still 10% off, thus $21.59 plus $4 shipping ($4 total on shipping, no matter how many books are ordered). Note: For buyers outside of the United States, please email me at easterncoyoteresearch@yahoo.com for shipping rates before purchasing anything on this site:
Proper citation for book: Way, J. G. 2007. Suburban Howls: Tracking the Eastern Coyote in Urban Massachusetts. Dog Ear Publishing, Indianapolis, Indiana, USA. 340 pages.
1.C) Suburban Howls e-book. The book is edited ((c) 2014) from its original version and available on e-readers in 100% color (with well over 100 pictures).
A. To receive the book as a color PDF and the book in .epub format please donate $10 or more to me and state in the optional message that you'd like these formats sent to you (donate tab can be found here on my homepage). Here is my email if you donated and did not enter a message but would like to: easterncoyoteresearch@yahoo.com.
B. To order the Amazon Kindle version of Suburban Howls ($9.99) click here. Amazon Canada can be found here (same $9.99 price).
C. Added March 2015: To order as a NOOK book through Barnes and Noble, click here.
D. To order an iBook through Apple in any format (iPhone, iPad) just go to the iBooks app on your tablet device and keyword search "Suburban Howls". I can not provide a link here because this is not an Apple device.
1.D) My Yellowstone Experience: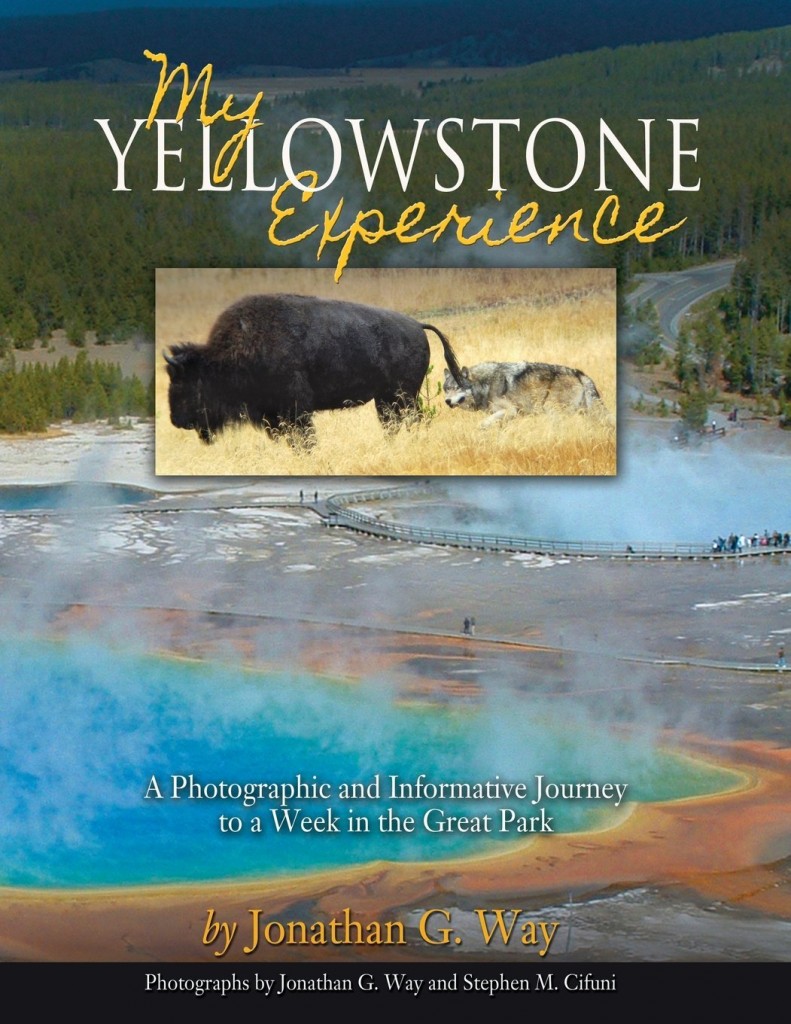 The book is 152 pages with over 300 pictures of Yellowstone's amazing hydrothermal features, scenery, and wildlife. It is color throughout and printed on high quality, shiny, glossy paper like most color picture books are. Book is only $19.99 + $4 Shipping/Handling (for U.S. residents; $4 total, no matter how many books you order). This book is also available as a Print On Demand (POD) picture book through online sources like Amazon and Barnes & Noble. Note: The POD version is lower quality than the book available on my website. Please visit my website related to this book, and/or purchase My Yellowstone Experience by clicking here:
– – – – – –
2. Pictures:
Note: All pictures are $15 each and are emailed to the buyer for personal use. I (J. G. Way) retain copyright on all ordered pictures. But you can do such things like print the picture for framing purposes, make accessories (cards, magnets) using online programs, and/or use for powerpoint presentations. I am not aware of many pictures of eastern coyotes/coywolves available to the public like these pictures are. Each picture is approx. 1.5 MB in size, making them suitable for 8 x 11.5 inch pictures.
Pictures available for purchase:
2.A)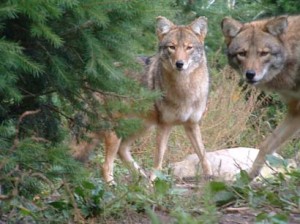 Eastern Coyotes/Coywolves staring at camera.
2.B)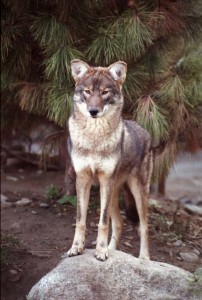 Eastern Coyote/Coywolf standing on alert.
2.C)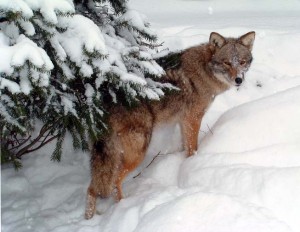 Eastern Coyote/Coywolf in snow.
2.D)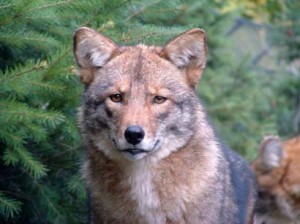 Eastern Coyote/Coywolf up close (head shot).
2.E)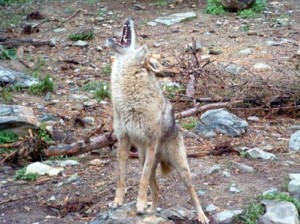 Eastern Coyote/Coywolf howling (book cover picture).
2.F)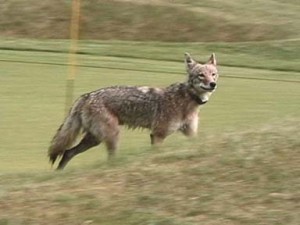 Eastern Coyote/Coywolf traveling on golf course.
2.G)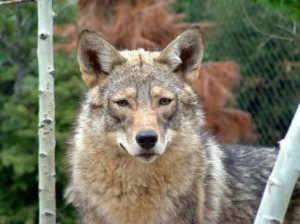 Eastern Coyote/Coywolf on Alert framed between trees.